We are here for you. This is us!
Dr. Joaquín Costa
General Practitioner

Apart from his native tongue Catalan and Spanish, Dr. Costa is fluent in German, Norwegian and Swedish. He also speaks English and French.
Dr. Costa was born in a small village of the Ribagorza in the Pyrenees near Huesca (Spain).
After earning his medical degree from Universidad Central in Barcelona / Ext. Leida he practiced for eleven years as general practitioner and country doctor in Germany.
Apart from his work as general practitioner he also gained practical experience in manual therapy, neural therapy, acupuncture, sports medicine, internal medicine with a main focus on gastroenterology, naturopathic medicine and balneotherapy.
The following five years he practised as Lege (doctor) in Norway and Sweden in private practices (Legesenter).
After returning to Spain he worked as general practitioner in the public health service on La Gomera for three years before taking up residence at the beautiful Costa Brava.
Also he completed his training for additional qualifications in geriatrics and palliative medicine for adults.
---
Stefanie Oberkobler
Medical Assistant (responsible for the management of our practice)

Apart from her native tongue German she also speaks Spanish, English and French.
Steffi is from a small village in Bavaria. She completed her training as medical assistant at an orthopaedic practice, where she continued to work for four years before transferring to a general practice.
The following 4 ½ years she worked in a private, German-speaking , providing both urgent and general medical care on La Gomera.
She then settle down on the Costa Brava and founded out practic.
---
Andrea Braun
Medical assistant (specialist for outpatient medical care)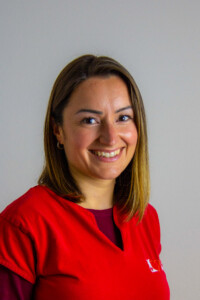 In addition to her native tongue German She is fluent in English and Spanish and speaks some French.
Andrea was born and raised in the German Black Forest region and completed her training as doctor´s assistant at a rehabilitation clinic for oncolgy, diabetology and orthopedy. She went on to work at a general practice in Oppenau for six years, where she gained valuable comprehensive work experience in general medical care and managed the practice as head doctor´s assistant for two years.
Parallel to her work in the practice Andrea continued her training in outpatient medical care which she successfully completed in 2012. She then worked for two years at a dialysis center.
Since April 2015 Andrea is part of our team as the head medical assistant in all areas of our practice.
---
---
Patricia Amposta
Reception and administration

She speaks German, Spanish, Catalan, French and English.
Born in Barcelona with Swiss origin, she completed her diploma in tourism and gained experience in the hotel industry. With her passion for languages and customer service, she is part of our team since April 2022.
---